THE POSACLIMA SYSTEM RENOVATED
THE ENERGY RIQUALIFICATION OF THE WINDOW WITHOUT MURDER WORKS
In order to have a good energetic result in the window compartment, it is not enough to replace the windows, you have to pay attention to two very critical and often neglected points: the roller blind and the window sill.
The first element is a real hole that occupies two-thirds of the section of the wall, which is closed inward by a modest inscription of a thickness of a few millimeters.
The air tightness along the perimeter is only approximate and the drill hole where the winding rope passes directly touches the interior of the home with the outside, causing blurry, temperature leaks and noiseless passage.
The second element, or the sill, is often a unique stone slab that connects the interior to the outside without any interruption, and thus constitutes a real thermal bridge.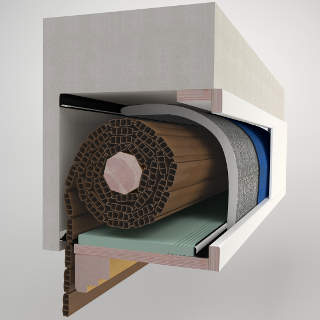 For this reason, when replacing the window frames, it is essential to insulate the box (both on the front and the sides) with thermally and acoustically insulating materials, replace the guide ring with an airtight element and cut the marble. Without this, replacement of windows only will not produce the desired energy saving and acoustic result, and indeed, if the window is of good quality, mold molding problems may appear on the perimeter of the window that was not visible before.
For this reason, ENEA, in its publication on energy-efficient housing, puts the box's insulation in the first place as an efficiency / convenience ratio. However, in the absence of a standardized system of interlocking today, many blinders neglect these problems.
The Posaclima Renova system has a simple and economical solution, based on an insulating and self-supporting reflective panel that, together with its accessories, solves both problems fast and efficiently.