Yubii Home Gateway Wifi for the management via App of Nice and Fibaro automation systems - Smart Hub
With
Yubii Home Gateway Wifi
your home becomes smart and life simpler.
Yubii Home Nice is the heart of your new
smart home
experience, a true smart hub that takes care of the comfort and safety of your whole family.
This smart hub gateway is produced by Nice, an enterprising Italian
home automation
company, and is useful for integrating all our
connected devices
under a single interface. In fact it can manage our favorite automations and is compatible with the main voice assistants. In addition, its installation is suitable for both new residences and existing ones.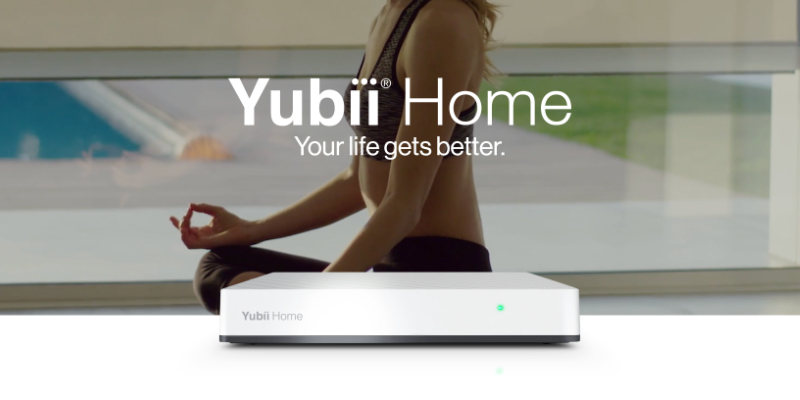 What are the Yubii Home Gateway Wifi features?
The Nice Yubii Home gateway communicates with all smart devices. It receives the data from the sensors, processes them, and consequently activates the automations based on your preferences.
Imagine infinite scenarios
Thanks to Yubii Home, with a simple command you can now: turn on the heating, lock your doors, turn on the lights, play your favorite music, control roller shutters, gates, doors and windows, electrical appliances and irrigation systems; Furthermore, you can monitor any water leaks and detect the presence of carbon monoxide and fires, creating a perfect, safe, smart and comfortable environment.
You can watch the video of the
morning routine scenario with Yubii Home
on Windowo's YouTube channel.
Make your home more sustainable
Yubii Home will ensure that your home has minimal impact on the environment. Thanks to the intelligent control of heating and lighting and the monitoring of electrical loads, you can reduce your energy consumption and lower your bill costs. Small daily gestures around the house can have a big impact on the planet.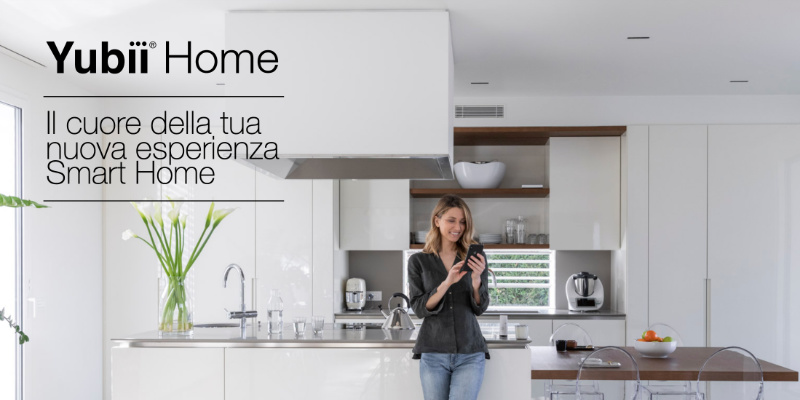 The light follows you
Thanks to innovative motion sensors, small electrical interfaces and smart automatic controls you will not need to continuously turn the lights on and off throughout the house.
Protect your home and family
A wide range of flood, carbon monoxide and smoke detectors, door / window sensors and cameras can effectively and continuously protect your home and loved ones from any danger, even invisible ones.
Comfort and control in any environment
The home should always be warm and comfortable! Thanks to smart heat controllers, thermostats, wall sockets and WiFi interfaces for air conditioning, Yubii Home ensures the comfort and adequate control in every room, tailored to your needs.
Your home welcomes you
Would you like to arrive home and find the garage door already open? Check if the gate is perfectly closed when you are not there? Yubii Home is compatible with your automated gates and garage doors, which can easily integrate into your smart scenarios!
Make the most of natural sunlight
Have you ever thought about automating your indoor and outdoor awnings, venetian blinds, pergolas or roller shutters? You can do this, and integrate them into your Yubii ecosystem. Manage natural light intelligently while boosting the energy efficiency of your home.
Intelligent management of all your electrical loads
Thanks to wall sockets and smart switches connected to your electrical appliances such as dishwashers, washing machines and ovens, Yubii Home will be able to turn them on or off as needed, monitor and measure their energy consumption and protect your home from overvoltage.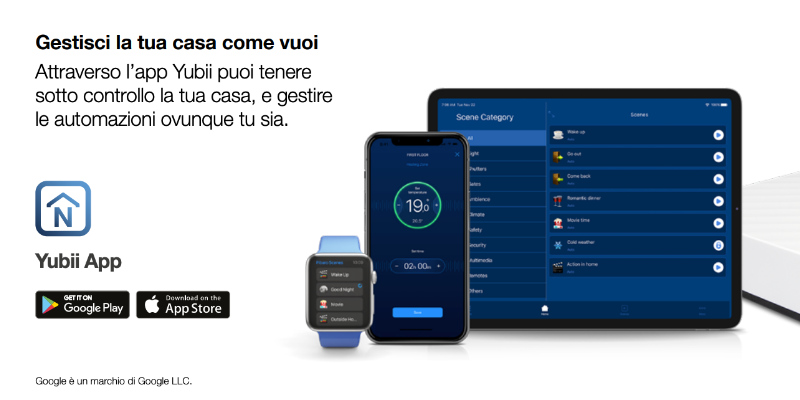 Compatibility of Yubii Home: Nice, Fibaro, elero and many more automatisms
Discover a true ecosystem all in one to seize a world of opportunities.
Nice, elero and FIBARO automations and sensors are compatible with Yubii Home, even those already installed. And if you have products from other brands, don't worry, they are probably compatible too!
Yubii Home is the gateway that connects Nice, FIBARO and elero technologies, and much more: it is open to the integration of third-party devices thanks to the support of an IP camera, its 5 plug-ins and compatibility protocols Z-Wave and WiFi.
Compatible with over 3,000 third-party devices
One of the most delicate aspects relating to the use of a home control center such as Yubii Home concerns its compatibility with products made by companies that are not directly related to the Nice group. Yubii Home uses the Z Wave protocol, for safer communications and making installations much easier in contexts where Wi-Fi could present an obstacle.
The Z Wave protocol is very easy to implement and for this reason there are many communication software that work with Yubii Home.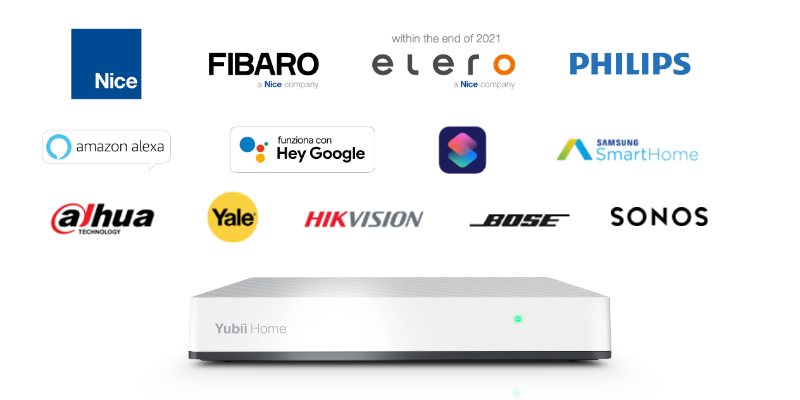 Control systems: how do you control Yubii Home?
All you need is a button, a gesture, a word.
Living in a smart home means increasing comfort and making everyday tasks easier. Automatic scenarios, voice commands, remote commands from all your devices will facilitate your daily routine: you can control your smart home in the simplest way.
Control your home with the Yubii app
Manage your home wherever you are with your smartphone or tablet! The Yubii app keeps you in touch with your home and allows you to manage it anywhere in the world.
Manage your home with your voice
It only takes a few words to one of the most popular voice assistants, such as Amazon Alexa, Google Assistant or Siri, even from your smart watch or smart car and things are handled as easily as possible.
Manage your home with a simple gesture!
You don't need to change your habits, you can continue to use your favorite transmitters - even the ones you already have - to manage your home in a simple and safe way: just one click.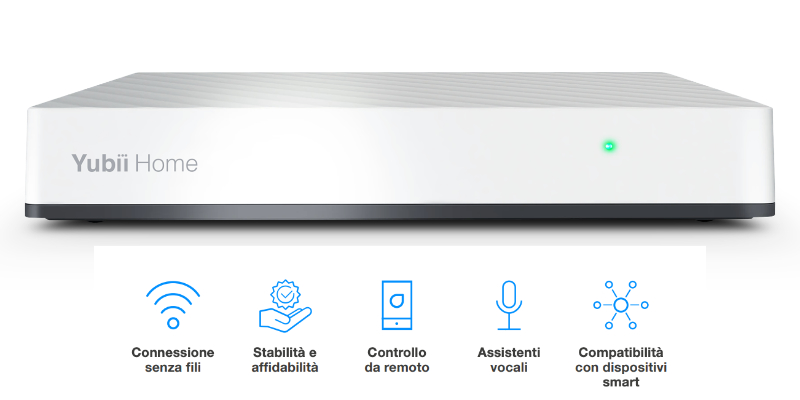 Technical specifications Gateway Yubii Home - Nice Fibaro elero
Description: Gateway Yubii Home;
Code: YH-001;
Power: 5V DC, max. 1A (adapter included);
Operating temperature: 0-40 ° C;
Operating humidity: max. 75% relative humidity (non-condensing);
Power connector: USB Micro B;
Dimensions: 178x110x31 mm.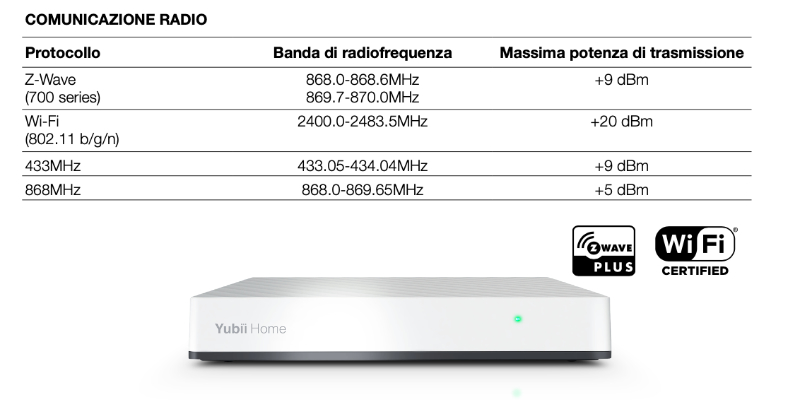 Yubii Home price in special offer on Windowo
How to buy Yubii Home?
Usually it is purchased only through a network of certified installers, who will then be entrusted with the installation and configuration of the services.
Fortunately for you we have been selected and for this you can find Yubii Home for sale online on Windowo.
In addition, the Yubii Home price is on a special offer: what more could you ask for?
Yubii Home by Nice: the smart home with Italian style
Discover Yubii Home by Nice: a
powerful home hub
that can control practically all devices in the house, even with brands other than that of the manufacturer, namely Nice.
The Nice company was founded in 1993 in Oderzo with home automation systems, in particular automatic opening for gates and garage doors. Nice has always had great attention to detail and design.
Over the years Nice has been able to acquire important companies globally, to become one of the world leaders in the smart home market.