Electric shutters: open and close your shutters with a click
Electric shutters are a convenience that can improve your quality of life in many ways: compared to traditional models they are easier to use, safer and can often even help you save energy. Electric shutters costs: in this category you will find all our professional solutions for motorizing shutters at advantageous prices. Order what you want in a few simple clicks.

Electric roller shutters: prices, offers, costs and benefits
Electric roller shutters are a great convenience now within everyone's reach. They can be immediately mounted electric or I can become one.

Motorized shutters were once considered only a luxury item and were only seen in places such as upscale hotels and villas. They were labeled as a kind of futuristic dream.

Today, however, electric roller shutters are much more affordable and are frequently installed in different types of homes.

Electric roller shutters for sale online on Windowo
Motorized shutters are electric shutters that allow the shutter to be opened and closed quickly and easily, improving the energy saving of homes.

In this category you will find various types of electric online shutters depending on the weight of the shutter.

Try the quality of electric shutters for home sold at the best online price.

Motors for electric shutters: where to buy them?
The mechanism of a motorized roller shutter is simple: a tubular electric roller shutter motor is installed inside the winding roller. This allows the electronic winding by means of a signal from the keypad or remote control.

Are you looking for a motorization for rolling shutters ? We immediately recommend the motors for rolling shutters for sale online on Windowo.

If, on the other hand, you are interested in finding out more about the world of roller shutters online, continue reading.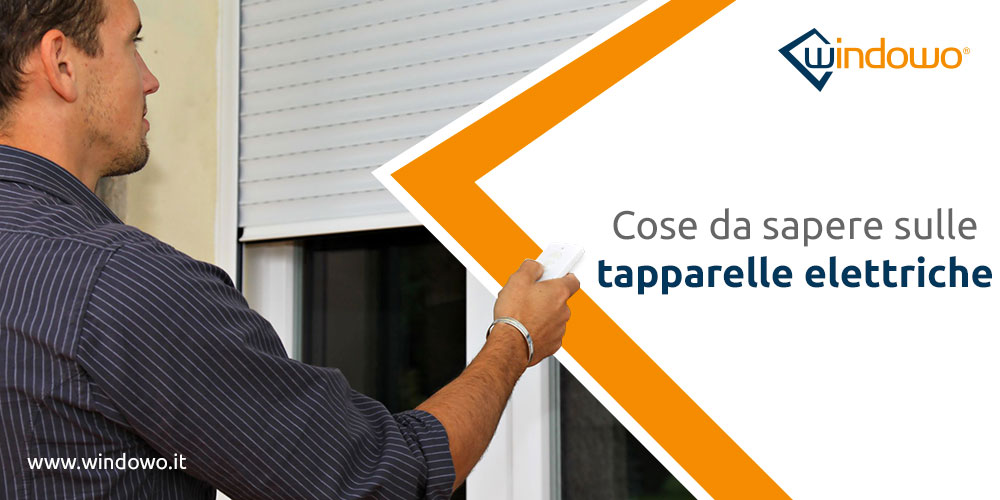 What are electric shutters used for?
To install electric shutters where there were manual lifting shutters it is not necessary to break walls and have electrical connections.

Some models can also work with a wifi connection and without electricity.

Easy to maintain, there is no doubt that, in addition to avoiding the presence of the often not very aesthetic cord, electric shutters are a great convenience, especially when they have a certain weight.

The advantages of electric shutters
For the elderly, children and people with some limitations to strength and movement, having electric shutters makes them autonomous in managing. All this is not a trivial matter.

Until recently, the automation of roller shutters was the prerogative of large hotels or prestigious homes, but now it is accessible to everyone.

You can choose to have electric shutters either if:

you are making this decision for installation in a new house;
but also if you are inquiring to replace the old blinds.

The basic mechanism is the same: both electric and manual roller shutters have a tubular lifting rod.

In the case of electric shutters, the electric motor is inserted inside this rod which causes the rotation movement to be made to lower or raise the shutter. The same movement that is activated by the belt or lanyard.

In addition to the motor inserted in the rod that wraps the roller shutter, there is also another type of electric roller shutter where the motor is connected to the belt, the so-called belt winder.

This motor replaces the classic spring winder. Practically, the strap wraps around the motor and two buttons are placed on the external plate to raise and lower the roller shutter.

Also for this solution the installation does not require masonry work and is very simple.

The cost of the motor for electric shutters is related to the weight of the shutters. But it does not exceed a few hundred euros. They can be operated with a switch, such as that of the light with a remote control even for a distance of 20 meters or with smartphone apps.

Whether you want to make an existing roller shutter become electric or you are thinking about which roller shutters to choose for your new home, know that no masonry works are necessary.

Maintenance of electric shutters
They require less car maintenance, no servicing. However, to ensure perfect operation and durability, it is necessary to lubricate the mechanism at least once a year .

Before proceeding with lubrication, the shutters must be carefully cleaned, eliminating dirt and dust.

There are various products for lubrication, the important thing is to use those that leave a layer of dry lubricant. They will release a patina that must be placed on a clean surface to make its action effective.

Electric shutters without electricity
The electric shutters, being equipped with a motor, need to be connected to the electric current in order to work.


But what do you do if there is a power failure?

There are three solutions for operating automated shutters without electricity:

The first is that when you go to choose an electric roller shutter motor, it is advisable to buy one that allows the emergency maneuver. They are motors that have an external hook in which, in the event of a power failure, a rod similar to that used for awnings is inserted and with that you can raise or lower the shutter at will. These motors are a little more expensive than the regular ones, but they are worth it.

The second solution is to connect the roller shutter power supply to an electrical UPS. It is a small device that is usually used in offices, connected to computers, to give the operators time, in the event of a blackout, to save the data and the work they were doing.

But there are also battery or wireless electric shutters where a control unit equipped with a battery is inserted inside the tubular of the shutter which is controlled by a remote control which, in the best and therefore more expensive motors, can also act remotely. This type of roller shutter is used when you do not want to install buttons on the wall.

With the technological evolution and the advent of home automation, the shutters, like much else, can be controlled remotely, by a remote control or by programming through the use of voice assistants or smartphone apps.

The automatic shutters can also be equipped with detectors and sensors for rain, wind and sun, so as to lower or rise autonomously when these external events occur.