Estetika Bettio - Anti-Bedbug Mosquito Net for Window with Clic-Clak and ANIMA21 System
Estetika Bettio, anti bedbug mosquito net with bedbug blocking technology
Estetika Bettio
, the anti-bedbug mosquito net that is innovative in every aspect: aesthetic, functional and installation. Profiles and plastics have been designed to offer
a barrier against annoying bedbugs
, insects that can easily be introduced into homes.
The Estetika mosquito net has been designed in order to eliminate all possible ways of introduction,
leaving the bugs outside the mosquito net
.
Furthermore, the Estetika Bettio mosquito net is patented with
ANIMA21
(certified class 6 for wind resistance). The ANIMA21 system by Estetika allows for automatic retraction of the net in case of strong winds or impacts. The net can come out of the guides to prevent damages or tears, and easily retract by simply operating the mosquito net.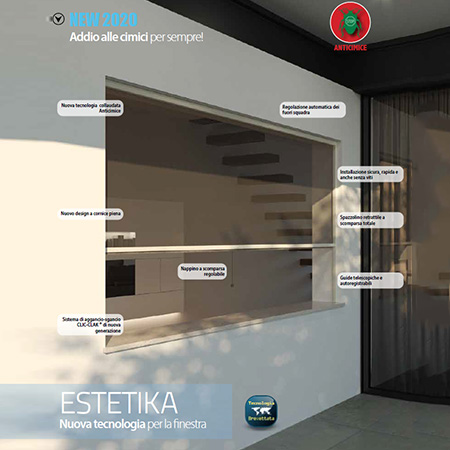 Attention: the indicated price refers to the purchase of a single mosquito net.
We make targeted estimates for larger quantities (contact us).
Bedbugs in the house? Anti-bedbug mosquito net Estetika Bettio
In recent years there has been a real invasion of bedbugs. The worst is the marble bug, also called Asiatic. Unfortunately in Italy the natural predators of the Asian bug are not present in the local fauna. For this reason the marble bug could proliferate in an uncontrolled way.
To solve the problem of bedbugs, the Bettio company has created Estetika, the anti-bedbug mosquito net . This mosquito net was created specifically to block bedbugs: it does not allow the passage of bedbugs because it was built with components designed for this purpose. In this way Estetika stops the possible ways of introducing bedbugs into the house, leaving them outside the mosquito net.

Removing bedbugs with an anti-bedbug mosquito net is an ecological and environmentally friendly system. To find out more, we recommend reading the article on the Windowo blog: Bedbugs in the house? Remove it with the Estetika Bettio mosquito net.
With Estetika Bettio you can say goodbye to bedbugs forever ... and more!
Do bedbugs invade your home? Bettio finally has the answer!
Brand new technological devices, the
result of long research and countless testing tests, make the Estetika anti-bedbug mosquito net an authentic barrier against these insects. But not only.
Installation is quick
and easy and can also be done without the use of screws. Furthermore, newly designed profiles guarantee a
full-frame finish
of high aesthetic value, further accentuated by
brushes and tassels that "disappear"
inside the aluminum profiles.
Self-adjusting telescopic guides and the famous Bettio clic-clak®
in a new and updated version complete the technical offer of Estetika and make it a state-of-the-art anti-bed bug screen.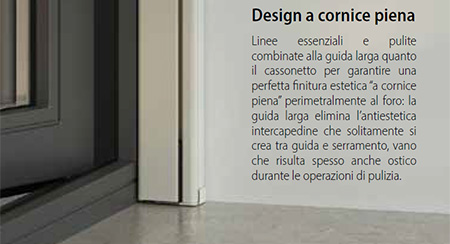 Estetika Bettio: new design of the anti-bedbug full frame mosquito net
Estetika Bettio has
essential and clean lines
which, combined with the guide as wide as the box, guarantee a perfect aesthetic "frame" finish around the hole. The wide guide eliminates the unsightly gap that is usually created between the guide and the window, a compartment that is often difficult to clean.
Estetika with adjustable retractable tassel: new technology for the window
New technology in the tassel
that can be adjusted in height and retracted until it disappears during periods when the mosquito net is not in use. It is also possible to adjust the height according to your needs.
Automatic adjustment of out-of-square and self-adjusting telescopic guides
Uneven walls? Problems off-team? No problem. Estetika Bettio is an insect screen for windows with high technical and aesthetic performance. This is thanks to
the horizontal movement of the guides
which make it possible to overcome the frequent problems of out-of-square installation compartments, and thus obtain a perfect finish. In addition, the guides can be self-adjusted by simply lowering the handle bar during installation. In short,
installing Estetika is truly child's play.
Thanks to its telescopic profiles and the standard upper brush, the
Estetika Bettio insect screen for windows adapts to the most irregular compartments
without the addition of thicknesses, silicone or various gaskets. The guides can be easily self-adjusted during installation by simply lowering and sliding the handle bar to full height.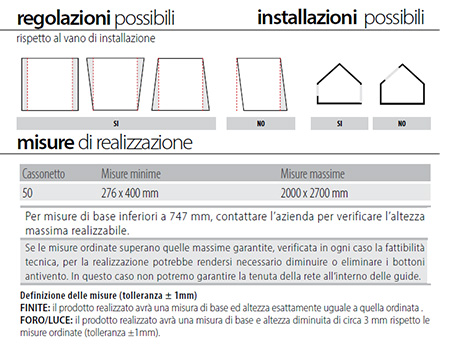 Estetika mosquito net can be installed quickly and safely even without screws
Last, but not least, the "self-guided" installation in a workmanlike manner; in safety even when installed beyond the shutter / shutter.
Installation in the hole even without screws
thanks to the combination
of push and double-sided adhesive
supplied.
With this system it is possible to correct out-of-square walls
up to 10mm
.

Estetika is equipped with a fully retractable retractable toothbrush and clic-clak® system
Estetika is a mosquito net for windows equipped with
the new generation Bettio clic-clak® system
that has an adapter profile with a brush that disappears inside the rising handle bar. It consists of the evolution of patented technology, which makes the release of the mosquito net extremely comfortable and natural.
It is not necessary to rotate the handle bar with both hands, as in other traditional vertical spring systems, simply press it down: even with one hand.
Estetika Bettio can have the safety clutch for a more comfortable and safe use (optional)
The
safety clutch
allows the mosquito net for window to rewind gradually, avoiding dangerous impacts resulting from the loss of control of the mesh bar (optional available on customer request).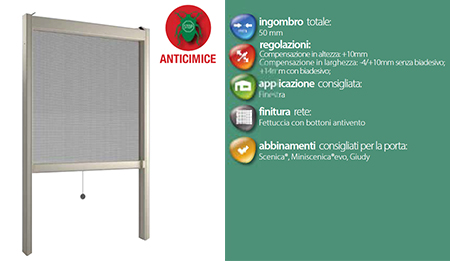 Estetika Bettio: characteristics of the anti-bug insect screen for windows:
Model: Estetika;
Overall dimensions of the box: 50mm;
Adjustments: height compensation: + 10mm, width compensation: -4 / + 10mm without double-sided adhesive; + 14mm with double-sided adhesive;
Recommended application: window;
Mesh finish: webbing with windproof buttons, black mesh available on customer request;
Aluminum color: choose from Silver (painted silver), Bronze (painted bronze), Black (ELOX 2000 matt electrocolour), Dark Brown Brown, White (glossy white Ral 9010), Matt White (Ral 9010), Ivory (glossy ivory Ral 1013), Cream White (Ral 9001), Gray (Ral 7001), Anthracite Gray (Ral 7016), Intense Black (Ral 9005 Matt), Brown (Matt brown Ral 8017), Green (Matt green Ral 6005), Michelangelo Gray , Michelangelo Brown, Michelangelo Green, Iroko, Douglas, Pine, Light Renolit, Dark Renolit, Cherry, Oak, Walnut, Acacia. Estimates are made on request also for other colors.
For basic measurements less than 747 mm, the maximum achievable height must be checked later (in case of problems in the implementation, you will be contacted by our assistance service).

Vertical spring mosquito nets for windows by Bettio
Bettio vertical sliding insect screens
are simple to install and stand out for their long-lasting reliability. Robust and functional, Bettio insect screens for windows have a series of functions and options that make them exclusive products.
Why install mosquito nets?
To protect us only from mosquitoes? In reality, there are also many valid reasons as to why protect the environments in which we live with mosquito nets:
For example, because we can keep the windows wide open in order to regenerate the air inside our home: a good air exchange ensures well-being and a good sleep.
Not to mention the importance of light. The sun acts on us as a natural antidepressant: what could be better for our mood than opening the windows and letting the light (and only you) enter our homes?
Furthermore, thanks to the mosquito nets, other unwanted guests such as flies, bedbugs, spiders and many other insects remain outside the house.
And again: the mosquito net saves energy by limiting the use of air treatment systems, such as air conditioners. Aid for the environment, for human health and also an economic advantage.
Estetika anti-bedbug mosquito net beautiful, but also environmentally friendly
Bettio carefully evaluates the environmental impact
of the products it manufactures. This vision pushes the Bettio company to design, produce and propose mosquito nets with high quality materials that require minimal maintenance.
The constant effort of the insect screen manufacturer Bettio is aimed at creating a safe working environment and the willingness to respect the regulations carefully. A material such as aluminum, 100% recyclable, fits perfectly with the company's ecological philosophy, as does the recycling of almost all production waste. Furthermore, the production cycle is highly automated and takes place aiming at energy saving.

For what reasons have we decided to offer you Bettio mosquito nets on Windowo?
Maximum attention to design, excellent materials and strict production processes: Bettio mosquito nets are very reliable and long-lasting products.

Among the advantages of Bettio mosquito nets we point out in particular the following benefits:
Safety guarantee : Bettio branded products have the CE mark certification.
Warranty and testing : each insect screen has a label showing all the characteristics and the CE marking.
Packaging and shipping : each model of mosquito net is protected by a shrink film wrap.
Patented systems : Bettio owns several important international patents.
Ease of installation: simple to assemble, easily adjustable and adaptable to multiple types of compartments, even irregular ones. Installation manuals combined with each mosquito net.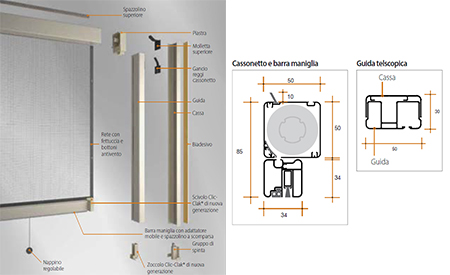 If you still have doubts, we recommend you watch the
video on the Estetika Bettio anti-bug mosquito net
that you find in the Windowo channel on Youtube: