Flexoterm Panel 20 mm - Insulation of the rolling shutter box by PosaClima Renova
Flexoterm PosaClima panel for the insulation of old bins
Flexoterm Panel Length: (metres) of your choice;
Flexoterm Panel Width: (centimetres): 120 cm;
Flexoterm panel thickness: (millimeters) 20 mm. A narrower version, 10 mm, is also available, also for sale on Windowo.
Panel in modified polyethylene with high density (28 kg/m3) and high thermal insulation (λ=0.04) specifically designed for the insulation of old boxes and a component of the Posaclima Renova system.
The Flexoterm panel guarantees a self-supporting elastic structure and is very easy to work with. It can be cut with scissors or a cutter and is perfectly impermeable to vapor (μ>2000) and to air. The reflective surface made with a special aluminized film (thickness 30 my), reflects infrared radiation inwards, considerably improving the already high insulating performance of the panel.
The insulating power increases as the thickness increases and it is therefore always preferable to use this
20 mm version
, compared to the
10 mm Flexoterm Panel
(which you find for sale on Windowo), unless there are housing problems inside the dumpster compartment.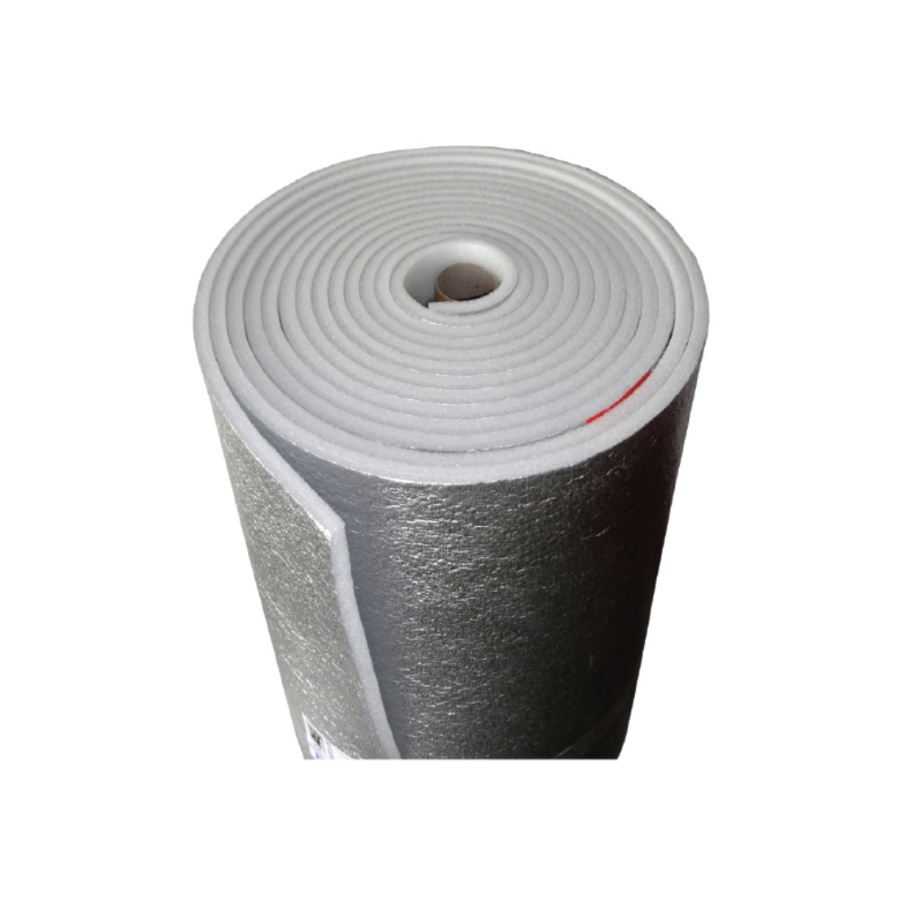 Fields of application Flexoterm panel
The Flexoterm panel is a component of the Posaclima Renova system specifically designed for the
insulation of old wooden, sheet metal or masonry boxes
. It can be used both in front inspection boxes (where it is always combined with the Termopav panel in the lower part of the box), and in lower inspection boxes.
It is installed inside the box compartment
in a very simple way: after having completely unrolled the roller shutter and having taken the width and depth measurements, the panel is cut to size and first inserted into the upper containment bar previously fixed to the wall , and then in the bottom bar. The shutter is then rewound to check that it is rewound completely without impediments caused by the insertion inside the box compartment of the Flexoterm.
Before this operation, the sides of the box compartment must always be isolated by cutting the Flexoterm panel to size and inserting it in contact with the sides (taking care to cut out the panel so that it can be housed in the presence of the winding shaft). The panel can also be fixed without the containment bars: in this case proceed by sealing it to the box compartment with
Hanno Elastoschaum polyurethane foam
.
Warning: using foam, the panel becomes removable only by cutting the hardened foam with a cutter. However, it is possible to seal it again simply by applying another bead of foam between the panel and the box compartment.
Certifications and Performance Flexoterm panel
Coeff. Vapor diffusion: UNI EN 12086, μ > 2000;
Thermal conductivity: UNI EN 12667, λ = 0.04 W/m*K;
Density: UNI EN1602, 28 kg/m.
Dynamic stiffness - s': UNI EN 29052-1, 28 MN/m3;
Maximum operating temperature: -10°C + 40°C;
Transmittance value of box insulated with PosaClima Renova system: R5077KA01 SGM Up to Usb=1.35.