Draft Excluder Comaglio 1750 Comax Series - Do It Yourself - Ideal for Door
Comaglio 1750 automatic draft excluder with patented system that can be fixed with screws
Article: 1750 Comaglio.
Dimensions: 53-63-83-103-123-133cm.
Shortenability: 10 cm.
Doors: steel, aluminium, armored, wood, PVC.
Comax Series for DIY with double register mechanism (DR).
COLORS AVAILABLE: anodized bronze, silver and black; painted white RAL 1013, white RAL 9010, brown RAL 8017.
The Comaglio 1750 Comax draft excluder is a patented automatic system which, when the door is closed, automatically blocks the possibility of cold, dust and noise invading our environment.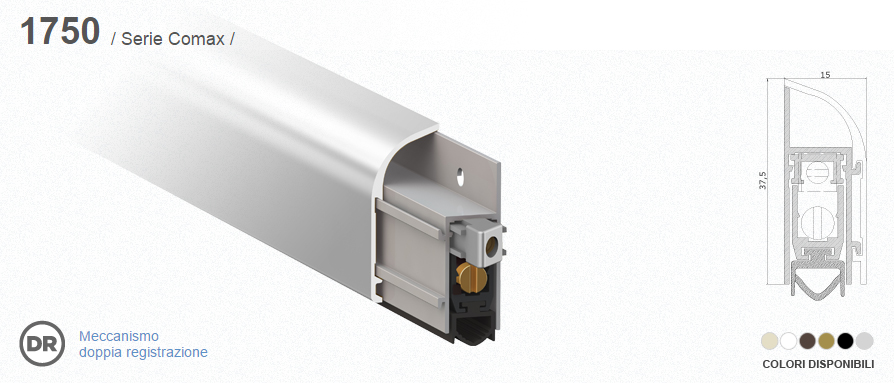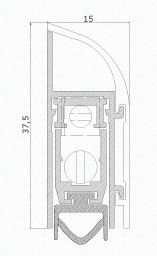 Draft Excluder Comaglio Comax Series
The Comax series consists of articles proposed for the "do it yourself" and offers the perfect combination of functionality, guaranteed by the patented Comaglio mechanisms, and attention to aesthetic details.
Standard accessories:

Standard equipment Draft Excluder Comaglio 1750 Comax:
Fixing with screws;
Balloon EPDM gasket;
Rounded plastic push button.
Optional equipment that can be purchased separately upon customer request (contact us for a personalized quote).
What is the difference between the 1750 and 1450 Comaglio draft excluders?
The difference between the 1750 Comax and 1450 Comax is essentially the mechanism : the former is more elaborate and performing.
The 1750 draft excluder has a patented mechanism, characterized by double adjustment, in the sense that it is possible to adjust not only the descent, but also the inclination of the same. Added to this is the new Soft Closer version which combines a strong homogeneous pressure along the entire length of the door with a controlled descent limited to the last fraction of the door closing, reducing friction on the floor to a minimum.
The Comaglio 1450 draft excluder , on the other hand, has a tilting mechanism with a single adjustment. It is characterized by the controlled movement of the mobile profile with gasket that descends from the hinge side and then from the opposite side. Registration acts exclusively on the descent.

With Comaglio draft excluders, nothing will pass under your doors!
Throughout its 30-year history, Comaglio has kept unchanged the characteristics that have distinguished its draft excluders over the years.
Touch the quality of the Comaglio product first-hand, with attention to the smallest details.