Circe Syncro: the pleated insect screen for doors with synchronized opening
Synchronized opening mosquito net? Open both doors with one hand!
The overall dimensions of only 18 mm and its versatility make the Circe Syncro insect screen the ideal solution for
small spaces
. The ground guide of only 5 mm makes passage easier.
Mosquito net with pleated net particularly suitable for installation on
large doors
.
The Circe Syncro mosquito net is also suitable for large spaces, up to a maximum opening of 6 meters and a height of 3 meters.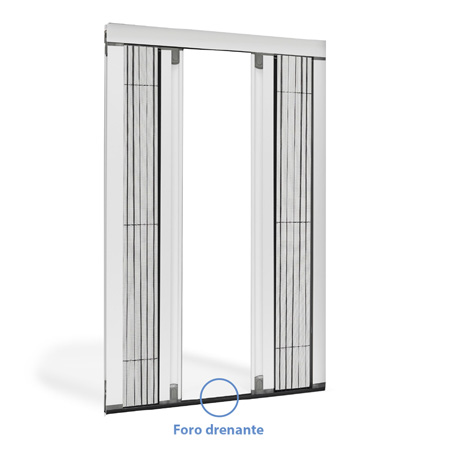 Open the two doors of the mosquito net with a single gesture
The innovative system provides for the simultaneous opening and closing of the two doors of the Circe Syncro mosquito net. Particularly suitable for
doors and windows of considerable size
, in particular for windows with a sliding system with a fixed wing. On large openings it is sufficient to operate a single leaf for total opening and closing of the mosquito net.
Technical features: read the main data of this pleated insect screen
Model : Circe Syncro;
Version : lateral 2 synchronized doors;
Network type : pleated 15 mm fold;
Winding : lateral;
Overall dimensions of the box : 18 mm;
Recommended application : French door;
Installation : fixing clip.
Discover all the colors of the Circe Syncro synchronized insect screen
The Circe Syncro pleated insect screen is supplied with
a standard black net.
Alternatively, you can ask to mount the following colors on request for the network:
Brown;
Hazelnut;
Orange;
Green;
Bluemarine.
You can choose to have a blackout or filter fabric as well.
If you are interested you can contact us.
Mosquito net aluminum color: choose from many shades
Choose from a wide range of aluminum colors to be able to adapt the product to every environment and need.
You can better see the colors available in the large photos above.
Some colors are available upon request (contact us to find out more).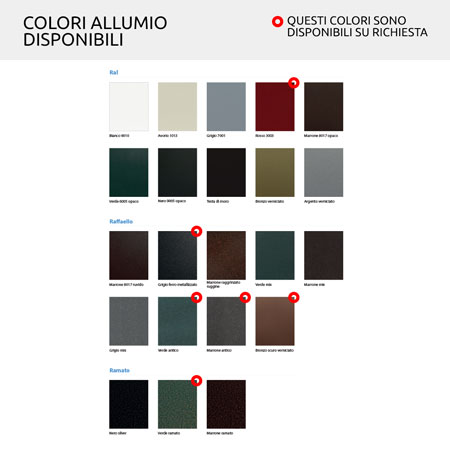 Minimum measures: how to buy your mosquito net online?
You must indicate the measurements (base and height) in millimeters, choosing between two types:
Finished measure - the mosquito net will be supplied with the same measures ordered;
Light measurement - the mosquito net will be supplied with 2 mm of base and height less than the size of the compartment.
There are also minimum and maximum sizes available
Minimum length : 500 mm
Maximum length : 6000 mm
Minimum height : 600 mm
Maximum height : 3000 mm
In the Windowo online store you will find the best pleated insect screens
Pleated net: minimum encumbrance, maximum yield even in large dimensions - The pleated net with a fold of only 15 mm allows you to think of products with minimum dimensions (only 18 mm), covering large dimensions and maintaining an elegant and modern line. It is the ideal choice for large rooms such as French windows and verandas;
Ergonomics and practicality - The handle bar, designed in an ergonomic way, allows a safe and firm grip along the entire profile, giving the product not only practicality in use but also an elegant and minimal appearance;
Ease of installation - Installation is simple and all the necessary operations are explained in special leaflets contained within the package;
Made in Italy design and materials - Made in Italy raw materials and design are a guarantee of innovation and quality to best satisfy the final consumer.