Rod Actuator - Aprimatic ST 450N 230V - Stroke 180-300mm - with Fixing Accessories
Aprimatic ST 450N 230V rod actuator for domes, sunshade blades, louvred windows, hinged windows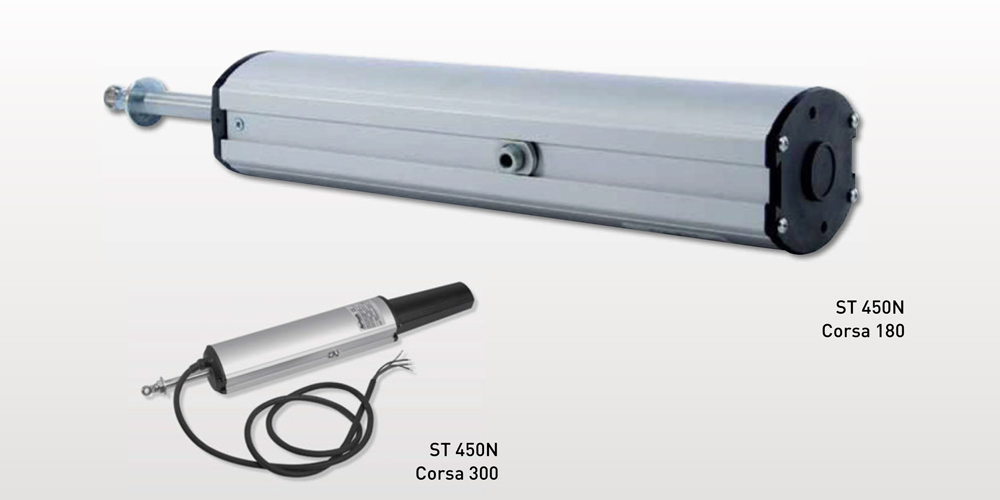 TECHNICAL DATA Aprimatic ST 450N Rod Actuator:
POWER SUPPLY: 230 Vac - 50 Hz;
POWER CONSUMPTION: 150W;
ABSORBED CURRENT: 0.70 A;
MAX PUSH AND TRACTION FORCE: 450 N;
MAX. STROKE: mm 180 - 300 (optional);
AUTOMATIC LIMIT SWITCH: YES;
PARALLEL CONNECTABLE: YES;
THERMAL PROTECTION: YES;
CAPACITOR: 1 for 5 μF;
BUILT-IN RELAY: YES;
PROTECTION DEGREE: IP55 (indoor use).
Innovative limit switch detection system
without moving mechanical parts: further increases the reliability of the product in any condition of use.
Small dimensions
for a better aesthetic insertion in the architectural structure.
Quietness and speed
are two strong points of the ST 450N actuator.
Can be connected in parallel
thanks to the use of the relay incorporated in the board.
Electric actuator
in aluminum casing with linear motion with rigid stem.
Operation at 230 Vac thermally protected.
Available accessory: End of stroke adjustment kit (sold separately).
Provided with reed switch system without moving mechanical parts.
Supplied with brackets and supports for the required application.

Choose the Aprimatic brand rod actuators, champion of automation
Aprimatic is the reference company, in Italy and in Europe, for gate automation systems. The experience gained in two decades of presence on the market and the very high know-how of designers, technicians, testers and consultants guarantees the customer high performance, product reliability and maintenance of value over time.
Today the Aprimatic brand is present on all types of automation systems, thanks to a complete offer that covers possible application areas with solutions suitable for residential, commercial, industrial contexts and for public areas.
Precise ideas, innovation, dedication, perseverance, but above all passion for a constantly evolving business are Aprimatic's guidelines.