Founded in 1985, the company soon made a name for itself in the market due to its supply of high-tech solutions and the wide range of products for automatic handling of swing and sliding gates, garage doors and barriers.
In 1994, the partnership with Giesse, leader in the sector for manual opening of aluminium doors and windows, and the takeover of Unimotor, specialist in producing window operators, allowed Aprimatic to further develop its range of products.
Now Aprimatic offers a complete catalogue of automatic solutions for the most varied building opening and closing requirements.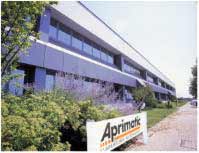 In just a few years, Aprimatic has become one of the leading international producers of automations. About 50% of its turnover comes from abroad, where it has a highly-efficient commercial network consisting of company branches, distributors and installers.
Aprimatic has its own company branches in Spain, France and England and can assist its customers the world over thanks to its highly-efficient distributor network. In Italy, Aprimatic boasts an important commercial network consisting of professional installers covering the entire country.
In 2003 Aprimatic signed a strategic, operational and financial partnership agreement with Urmet Group, one of the main actors in the International Telecommunication Market, Domotic and Security Systems Market.
Visit Aprimatic Official Site.