Mustad TSP Panelvit Universal White Zinc Plated Screw Box
TSP Countersunk Head - PZ Recess
Lubricated universal screw suitable for screwing without pre-boring in: chipboard panels, wood, hardware, thin plates, plastic and plugs.
100 HOUR WHITE GALVANISATION
(8 micron thick): salt spray corrosion resistance: > 100 h, 30% better than standard galvanisation (appearance of red rust) conforming to grade 3 of EN 1670. RoHS compatible. High corrosion resistance; suitable for outdoor use, where there can be occasional or frequent wetting from rain or dew.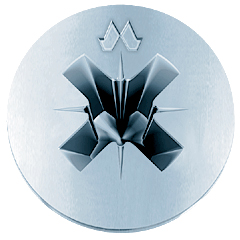 ---
You can choose the characteristics (diameter and length) of the screw that you are looking for:
Screw diameter (mm):
Ø (your choice).
Length (mm) / number of screws in the package:
choose the screw length and you can see the number of pieces in the package.
---
DEEPER RECESS
to ensure correct coupling with the screwdriver bit.
A deep recess with a perfect geometry means that one bit can be used for thousands of screwing operations.
REINFORCED HEAD
to allow high screwing torque transmission.
SMOOTH, BITING PROFILE THREAD
to ensure fast advancement with minimum effort, reducing the risk of splitting the wood.
OGIVE-SHAPED POINT
(all-threaded), guarantees safe gripping without slipping and gradual, constant screw penetration. The results is better penetration ease and lower material cracking risk because there are no discontinuities.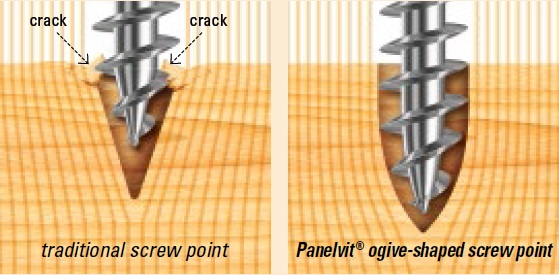 CASE HARDENING TREATMENT
This confers two properties to the screw:
- very hard surface, for biting into the fibres of the
hardest wood;
- tough, elastic core, needed to avoid breakage of
screws.
PROTECTIVE TREATMENT
To protect the screw from rust and corrosion, guaranteeing reliability over time and providing appearance suited to all uses.
LUBRICATION
This is a specific MUSTAD anti-friction treatment which reduces the fastening force by up to 50% with respect to a non-lubricated screw.
IN-PROCESS INSPECTIONS
The entire production process is subjected to SPC (Statistical Product Control) inspections, to make sure the high quality level is maintained constant over time.
The lot number printed on the labels ensures total traceability of all production steps and of the respective inspection/test documents.
CALIBRATED SCREWS
Panelvit® Mustad screws are made respecting tolerances which are stricter than those of standard fasteners. They can be defined "calibrated", i.e. suitable for automatic screwing systems.
CE MARKING
For load-bearing timber assembly elements, according to EN 14592:2009 (awarded by CSTB Centre Scientifique du Bâtiment, Paris). Issue of DoP (Declaration of Performance),
according to European Construction Products Regulation 305/2011.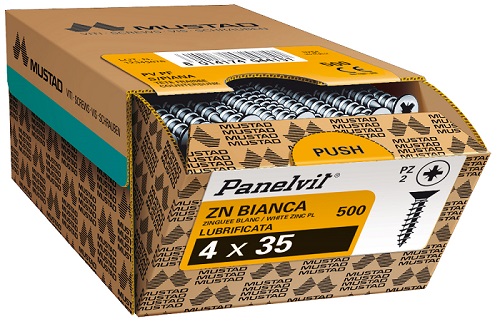 COMMERCIAL BOX
Drawer-like opening, can be closed again after use;
Possibility of picking content from stacked boxes;
All boxes are the same width for tidier storage;
High crushing strength.
MUSTAD: A TRADEMARK OF QUALITY AND SAFETY
All Mustad screws are manufactured in Italy and bear the Company trademark on the head to ensure their origin.
High quality standards maintained constant over time guarantee screws suitable for automatic or critical assembly.