Sky 450 Nekos Rack Actuator 450N 230V Stroke 180-230-350-550-750-1000mm
Sky 450 Nekos: the window motor with an essential style
Conceived on the basis of the Sky family, it combines strength and versatility in a machine that has a push and pull force of 450N.
The load-bearing structure is made of high-strength composite material (glass-fibre reinforced polyamide), with a round section steel rack.
Thanks to the sliding clamp system, the actuator can be fixed along the entire length of the stem, even at the end and the support can oscillate to adapt to the rotation of the window.
Sky 450 can be applied in tandem to a stem for a second push point.
Available strokes:
180, 230 mm for slats and sunshade blades, 350, 550, 750, 1000 mm for application on windows.


Sky 450 Nekos Technical specifications:
Linear rack actuator suitable for moving domes, hinged windows, transom windows and dormer windows.
Push and pull power of 450 N. One or two push points.
Operating at 230V AC 50Hz.
Supplied complete with universal tilting bracket, which can be fixed along the entire length of the rod by means of two sliding vices.
Limit switch with power absorption in opening and closing and as electronic overload protection.
Can be connected in parallel.
Compliant with Directives 2004/108 CE (EMC Directive) and 2006/95 CE (BT Directive).
The connection bar and the stem (in the various sizes) are accessories that must be purchased separately.
Sky 450 Nekos, choose the color you prefer for your actuator:
Anodized Silver for the metal parts in extruded aluminum and Gray (approximately RAL7035) for the casing of the gearmotor.
The power cord is always white.

Sky 450 Nekos Technical data:
Model: SKY 450;
Push and pull force: 450 N;
Available strokes: 180, 230, 350, 550, 750, 1000 mm (*);
Power supply voltage: 110/230V~ 50/60Hz;
Current consumption at rated load: 0.25 - 0.16A;
Power consumption at nominal load: 0.30 - 0.18 A;
No-load translation speed: 5.5 mm/s;
Duration of the idle stroke: Depending on the stroke;
Double electrical insulation: YES;
Service type: S2 of 4 min;
Operating temperature: -5 +65 ºC;
Degree of protection of electrical devices: IP44;
Adjustment of the attachment to the frame: Self-determination of the position;
Parallel connection of two or more motors: Yes;
Tandem or battery connection: Yes;
Limit switch in opening and closing: Absorption of power;
Overload protection in opening and closing: By power absorption;
Dimensions: 115x42x(Stroke+135) mm;
Appliance weight: Variable according to construction.
(*) Strokes can be reduced with technical intervention on the internal limit switch.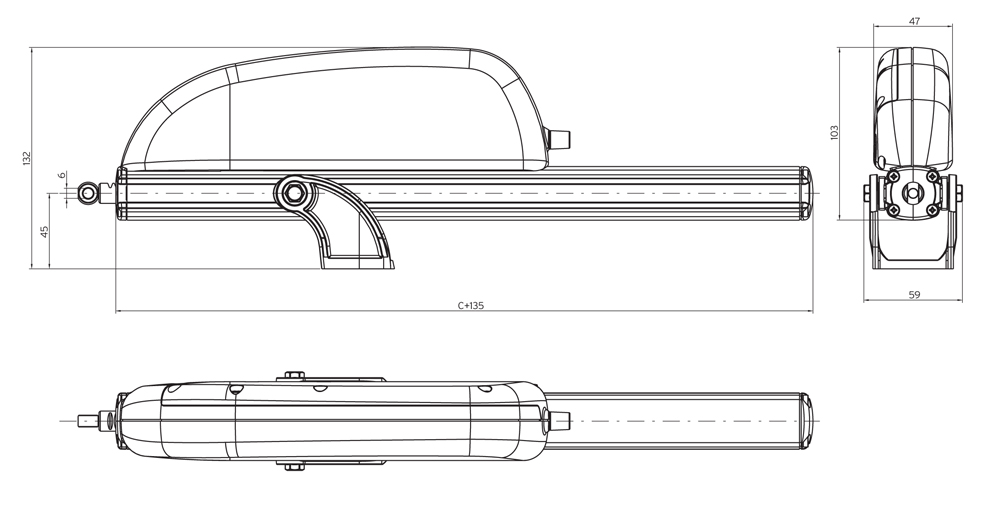 Check that the appliance has the same type of electrical power supply as that available for connection, checking the data shown on the label applied to the actuator.
Nekos window motors built to perfection
Nekos products are built in a workmanlike manner in terms of safety, in compliance with the provisions of current laws.
Correctly assembled, installed and used in compliance with these instructions, they do not constitute a danger to the safety of people, animals or property.
The products that fall within the field of application of the EEC directives comply with the essential requirements contained therein.
CE marked , they can be placed on the market and put into service in the European Union without further formalities.
For further information on this product (use, safety, cleaning, guarantee, certificate of conformity and much more) we recommend reading the Instructions (PDF downloadable in "Documents").