SharkNet Central Opening Pleated Flyscreen 04 for Balconies and Patio Doors
SharkNet Central Opening 04, the pleated flyscreen with central opening equipped with a 4mm strip.
This model specifically designed for balconies and patio doors has a footprint of 22mm and nets in gray (or colored nets upon customer request). The Idroscreen net is water-repellent and repels dirt and water. Furthermore, SharkNet is extremely easy to install and clean.
Attention: the indicated price refers to the purchase of a single mosquito net.
Targeted estimates are made for larger quantities (contact us).
On Windowo there is also the SharkNet model Central Opening 08 with 8mm strip.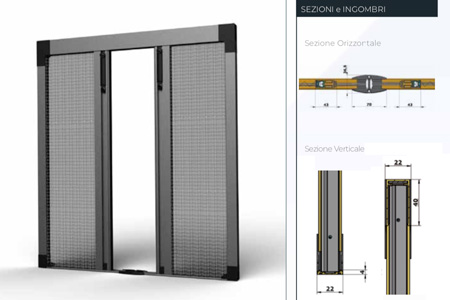 Pleated flyscreen SharkNet central opening 04 version technical features:
Pleated mosquito net, central opening , 22mm footprint, gray nets (or colored on request, for information contact us).
Wide range of profile colors, 4mm low guide , possibility to block sliding at any point;
Safe system for children and the disabled;
With Idroscreen net that repels dirt and water;
Easy to assemble and clean.
Flyscreen with central opening with 4mm strip ideal for balconies and patio doors
SharkNet Central Opening 04 is a pleated mosquito net designed specifically for
balconies and patio doors
. The most relevant peculiarity of the pleated mosquito nets is the folding
net
: when the mosquito net is completely closed, it remains almost completely stretched; when it is opened, however, the mesh adapts to the
pleated
motif and folds like an accordion, until it disappears almost completely. It therefore works without a box and spring system, with a final result of unprecedented practicality.
The significant advantages undoubtedly also include the ease with which the net can be cleaned.
SharkNet pleated fly screens are safe for children and the disabled
SharkNet was created and patented by the Italian Sergio Marcantoni which excluded any mechanical mechanism to operate the mosquito net in opening and closing.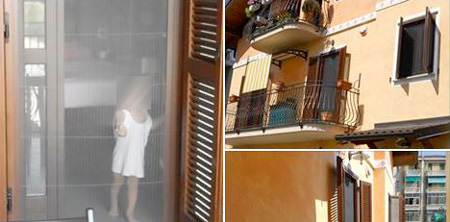 SharkNet is made with a water-repellent net that repels dirt and water
Idroscreen
encompasses in one word all the experience of our research and development office, 14 years of studies have made it possible to equip the SharkNet pleated mosquito nets with the best possible network:
water-repellent
, UV-resistant, salt-resistant, which helps to repel dust and above all is not cut on the crease like polypropylene nets.
Why did SharkNet decide to equip Idroscreen pleated nets?
Have you ever wondered why SharkNet uses the water-repellent polyester net on pleated mosquito nets? For the following reasons:
Create resistant products that can be exposed to the open air and that are able to withstand large volumes of rain without the risk of breakage.
Making products that are easy to wash and clean . With IdroScreen you can wash your mosquito net whenever you want and make it look like new.
Building products that do not collect dust and that need to be replaced quickly. IdroScreen in fact has a treatment against the accumulation of dust.
Like any object in the house, the mosquito net gets dirty and accumulates dust and allergens. With the Idroscreen network you can wash SharkNet with soap and water whenever you want, making it look like new every time.
SharkNet pleated flyscreens are a great Italian excellence
It all started thanks to the spirit of inventiveness and commitment of Sergio Marcantoni. DFM, which he founded, is today the largest exponent in the field of the production of pleated mosquito nets, which constitute an original product and leader of the national market.
All materials are completely
Made in Italy
to guarantee a product of higher quality and value than all those you can find on the market.
All the planning, the study and the realization has been done in Italy, in Rome for precision. Even the patent, designed by Sergio Marcantoni.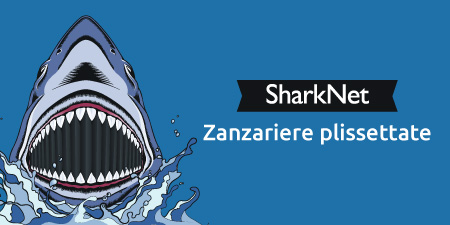 Sharknet flyscreens for balconies and patio doors available online on Windowo
With Windowo you can buy your new pleated mosquito nets in a few simple clicks. Do you have doubts about how to proceed? Please, contact us.