Flyscreen Bettio Picoscenica 1 Shutter Side Scrolling Without Barriers 25
Technical innovation and the semplicity of Scenica "family". Picoscenica is the last born among the revolutionary screens of Scenica "family", puts together all the technical features of this pretty lucky line of screens such as absolutely no low and side rails, possibility to stop the handle bar at any desidered position, mesh always smooth and plain. And all of this despite a room required for the installation of
25mm only!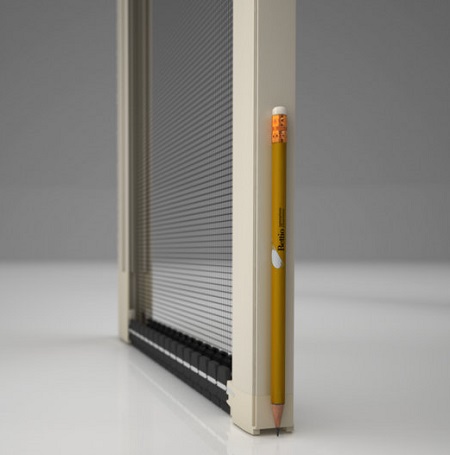 Picoscenica: total protection in just 25mm!
Picoscenica is provided with the
anti-wind brush
on the rails - an historical patent by Bettio - that allows to use the insect screens also with droughts.
Quick and easy installation and simple and accurate adjustments complete the technical range of this evolutionary product.
On Windowo you can also buy the version of Picoscenica with 2 Shutters (for basic sizes greater than 1380 mm).
Technical features:
Model:
Picoscenica 1 Shutter;
Overall height:
25mm;
Application:
Hole;
Settings:
height compensation -3/+11 without bioadhesive; +14mm with bioadhesive. Width compensation up to +10mm.
Closing:
It stops in all positions;
Aluminum color:
choose between Silver (painted silver), Bronze (bronze painted), Black (opaque electro ELOX 2000), White (glossy white RAL 9010), Ivory (ivory polished Ral 1013), Green (green matt Ral 6005), Brown (brown matt Ral 8017), Cherry Wood and Walnut. Estimates on request for other colors.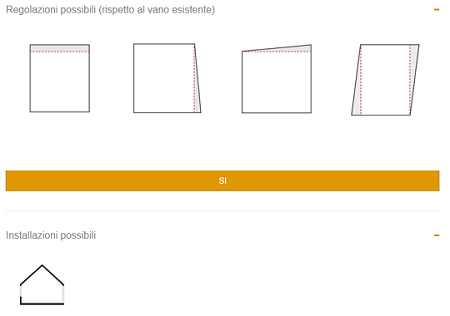 Picoscenica is achievable if, with respect to the width of each swing, the height is higher by at least 8 centimeters.
For less measurements you can view the data sheet of the mosquito net Bettio Miniscenica, always on sale on Windowo.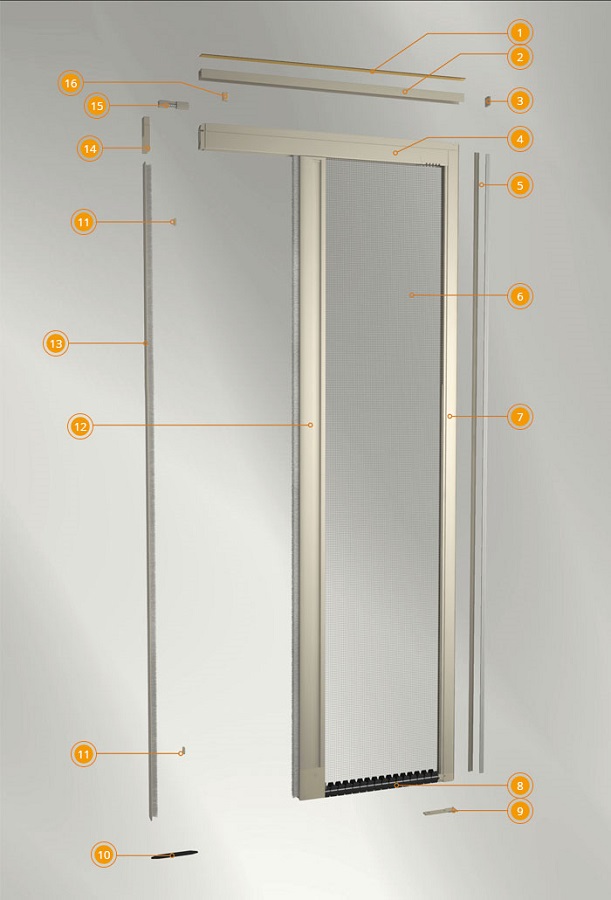 Scenica: a family of excellent products
Scenica is a series of lateral roller mosquito nets with aluminum structure and network of glass fiber, composed exclusively of a dumpster and by an upper guide, free of any closure profile and rails on the ground. Only one box can protect rooms up to 2 meters wide, then coming in to cover double doors, with two bins, rooms from 4 meters. A special handle bar allows one to stop the mosquito net in any position, without having to rewind completely, while maintaining the network always perfectly tensioned.
It 'a product ergonomically cutting edge, easy to operate and barrier-free, making it ideal in the presence of children and the elderly.
The mosquito nets Scenic are the perfect solution for your glove compartment.
The revolution is here!
The Scenica products are the only mosquito nets side scrolling with no floor profile and without profiles for the abutment of the closure.
Designed for quick and easy installation with the minimum number of holes. They stop in all positions making the switch very easy.
The technology of production and completely revolutionary patented systems are the strengths of the Scenica products.
Ergonomically perfect, easy to install and operate, the products are screened Scenica side without barriers, all characterized by the patent International Bettio and available in different designs.
Thanks to the presence of a mobile guide, the Scenica products may also be installed in very large rooms.
Always tense net, in all positions:
any position you want to block the mosquito net, the network always remains taut, thanks to the special mechanical lock that allows to stop at will the handle bar leaving only the space needed to pass.
Large openings are no problem:
with the ability to cover large openings, Scenica is ideal for large rooms such as doors and porches. All models are also collectible in frame so as to be practically invisible.
Ergonomics and design:
Scenica is practical and easy to handle thanks to a specially designed handle according to ergonomic research. The rounded line of aluminum profiles gives this mosquito net a stylish and sober that harks back to the best of Italian design.
The mobile guide:
With this accessory specifically studied, mosquito nets Scenica require no fixed guide to the floor, even a few millimeters, so as to deserve the fame of the first full mosquito net in the world without floor guide.
No closing profile:
mechanical locking of the handle in any position can not use profiles closing. So the mosquito takes only two sides of our space and allows us to install with only 2 screws, maximum 3 lengths for the most important.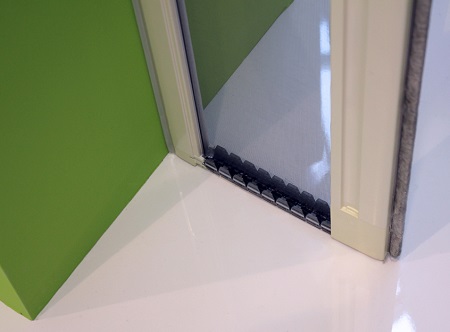 The importance of the mosquito net
Why install mosquito nets in the environments in which we live? To protect yourself from mosquitoes, what else? In fact, the response seems very low cost. But to linger a bit 'on the application you can also find plenty of other good reasons as to why protect the environments in which we live with mosquito nets.
For example, thanks to mosquito nets, while pesky mosquitoes if they are left out, we can keep the windows wide open to regenerate the air inside our house: a good air circulation ensures well-being, a good sleep, a high degree of concentration and yield. Do you think that the air inside your home or office can be up to 5 times more polluted than the air outdoors.
We spend 90% of our time indoors, at home, at school or at work, breathe about 22,000 times every 24 hours.
Let's not forget the importance of light: the sun is light and light is a "super nutrient." The sun acts as a natural antidepressant: what could be better for our mood that open the windows and let the light (and only you) enter into our homes?
Moreover, thanks to mosquito nets remain outside our house also flies, bugs, spiders, and certainly many other insects that, without sting, there surely rejoice.
And yet: the mosquito net can save power by limiting the use of facilities for the treatment of air, such as air conditioners.
An advantage for the environment and for human health, but consequently also an economic advantage.
Sustainability: the mosquito nets Bettio are 90% recyclable

At a time when talk of "green economy" seems to have become almost a fad, Bettio carefully evaluates the environmental impact of its products.
This vision drives the company to design, produce and offer products created with high quality materials, durable and which, for their end use, require very minimal maintenance.
Corporate ethics fall also the continuing effort to create a safe working environment and a willingness to comply with the standards. In this sense, then a material such as aluminum, 100% recyclable, fits perfectly with the philosophy of "green" of the company, as well as the recycling of the almost totality of production waste.
Finally, the entire production process is highly automated and takes place aiming to energy saving.
Why choose Bettio? Beautiful, robust and quality!
Thanks to the meeting between care planning, excellent materials and strict production processes, mosquito nets Bettio are reliable and durable products, which will accompany you for many summers!
Security Guarantee:
All products have Bettio certification CE marked.
Warranty and testing:
every product is equipped with an identification label which shows all the features and the CE.
Packaging and shipping:
Each screen can be protected by a casing of shrink film. For shipments with carriers, the product is also included in sturdy cardboard boxes.
Patented systems:
some of the many international patents Bettio are definitely the flagship of the company.
Easy installation:
the mosquito nets Bettio are also designed to be easy to install, easily adjustable and adaptable to many different types of rooms, also irregular. All operations
assembly are also guided by the relevant installation manuals combined with each mosquito net.